I met Helen Joyce at the British Library one overcast afternoon in September. She had just come from the court hearing of Mermaids v the Charity Commission for England and Wales and LGB Alliance, which was in progress that week. She was wearing the X-chromosome-shaped pin badge of Sex Matters, the non-profit organisation where she is Director of Advocacy, and which campaigns for 'clarity about sex, when it matters' in society.
Joyce started working as education correspondent at the Economist in 2005, rising through various positions to executive editor for its events business in March 2020. She is currently on a sabbatical to enable her to focus on her campaigning work. In summer 2021, she shot to greater fame, or notoriety, with the publication by OneWorld of Trans: When Ideology Meets Reality.
A few weeks after I spoke to Joyce, she gave an interview at Gonville and Caius College, Cambridge, despite opposition from the college's master and some other dons and students. The closing submissions in the Mermaids case, which was adjourned, took place on 7-8 November. When this article was published, judgment had not yet been handed down.
This interview forms part of our series on civil liberties. The Freethinker is committed to open, clear and well-reasoned discussion of difficult issues. Comments are open below.
~ Emma Park, Editor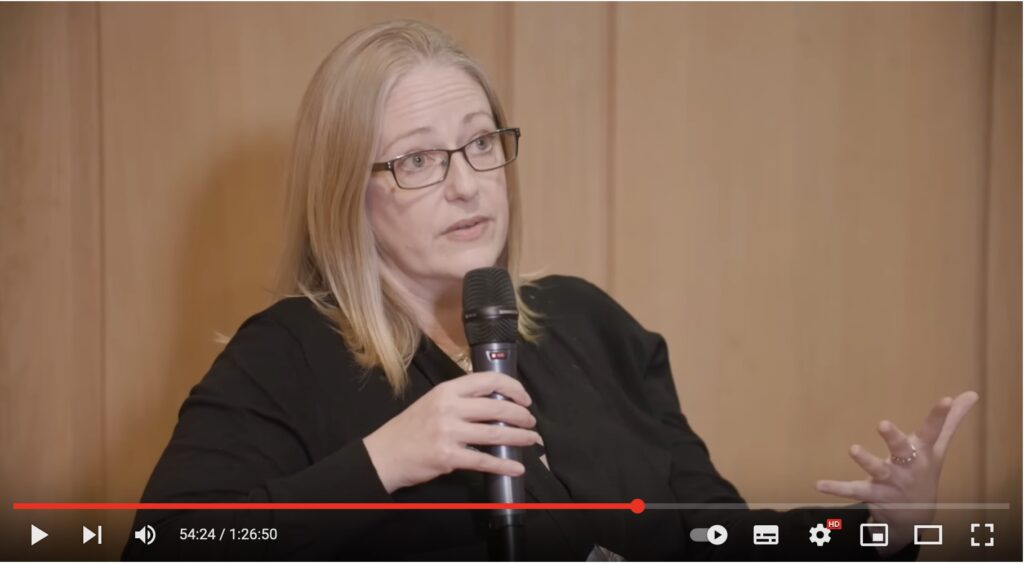 What motivated you to write Trans?
In 2017, I was editing the International Section of the Economist. A commissioning editor asked me, why do kids keep coming home and saying such and such is 'trans'? This was not something I was aware of. I tried commissioning someone, but that did not work out, so I wrote the article.
I have a background as a mathematician, and so a circular definition of something as fundamental to human law and life as what it is to be a man or a woman bothered me. To say that a woman is anyone who says they are a woman is a circular definition. It does not tell you what a woman is. And it actually does matter who is a woman and who is a man in quite a lot of situations.
In 2019, I went to an event in Manchester with some detransitioners and I realised that an appalling policy misstep had occurred – an actual full-blown medical scandal. I had not said those words to myself before. There were six young women, all of whom had identified as men. Some of them had taken quite extreme medical steps, including sterilisation – removal of their entire sex organs – before realising this was a mistake. These young women were lesbians and they misinterpreted their gender non-conformity as meaning they were meant to be men. [See this recent story by a Cambridge student – Ed.]
That was the night I decided I had to write the book, because it gave me a sort of moral clarity. I decided that if I lost my job for writing about the fact that they were sterilising gay kids, I would not regret it.
Do you have children yourself?
I have two boys, neither of whom are gender dysphoric. One is straight and one is gay.
What has the response been to Trans? Have you had a lot of negative coverage?
The response has been a thousand times better than I thought it would be. Nearly all the reviews have been fantastic. There is a separate response that views me as a hate figure. They are not mostly trans people, but those who have made a profession out of seeing fascism in the most unlikely places. They see many people as being the beginning of fascism – including me, apparently.
Is it men and women equally, would you say?
It is hard to answer that. By far the most aggressive and unpleasant are the men; but numerically, it is women who disagree more with me. There is no demographic group that buys into the claims of gender identity ideology in a majority, but the group that comes nearest to it is young women. Boys and older people are significantly more sceptical.
What do you mean by 'gender identity ideology'?
The claim that what makes you a man or a woman is what you say you are and what you say you feel like, as opposed to your biology.
Why do you think young women are more likely to buy into gender identity ideology than other demographics?
Having been a young woman myself, I think that before you have kids, you can be unrealistic about the bedrock nature of female embodiment. You think that you will not be trapped by domesticity the same way that your fool of a mother was. And then you realise to your horror that actually she was not an idiot. Pregnancy is hard; you fall in love with your baby, they are helpless when they are little, and before you know it, you are on the 'mummy' track. You realise that the policies around supporting women to give birth, helping women back into work at the pace that they want to, letting women look after their children the way they want to, have not been fixed.
When you are 18, you think they have been fixed – and you do not necessarily want to be reminded about the fact that you are the weaker sex physically. It is not nice to have to face up to what an incredible change having a baby, giving birth and all of that makes to you. It is not nice to focus on the fact that we are the rapable sex.
The very women who claim that 'there is a rape crisis on campus' are the ones who object to the policies that protect women, like single sex spaces – because these policies are unpleasantly animal, that's the best way I can put it. When you are a young woman, you want to pretend that you are an equal human being. That is a good pretence. But the fact is that you need to be careful; you need to have separate spaces; you need to do your sports separately or you will never win. I think young women can live in a fool's paradise – I certainly did.
How far can biological sex and gender be distinguished?
Biological sex is an evolved characteristic of all higher animals and plants: everything except single-cell organisms and some fungi comes in two sexes. Some plants have two sexes on the same plant; worms are hermaphrodites; clownfish can change sex; with crocodiles, which sex the individual becomes depends on temperature. But in all cases, there are two reproductive strategies. Just two: one where you produce big immotile gametes, and one where you produce small motile gametes. And in all mammals, it is one or the other – there is no mammal that can change sex. [See Richard Dawkins, 'Sex is pretty damn binary', in Areo Magazine – Ed.]
That sounds technical, but it is as basic to human life as the fact that we breathe air, not water, and that we cannot fly. If you think about those two analogies, breathing air and not being able to fly, they shape the entire world around you.
The word 'gender' is so ambiguous that I try not to use it any more, but if it means anything other than 'sex', it is the equivalent of the built environment – the consequences of the fact that we come in two sexes. Some of those consequences are pretty hardwired, such as that it is women who will need to be supported during pregnancy, childbirth and the early childhood [of their babies].
We forget how unusually difficult pregnancy and maternity are for human animals. There is no other mammal that has it as hard as we do. Women are not able to look after themselves entirely when they have kids. That has consequences for the way that marriages and societies are organised. You cannot pretend women are men in society at large, because this is such an incredibly burdensome process.
I do not draw a very rigid distinction between sex and gender, because I think that a lot of things that are called gender are actually more linked to sex, and are not as mutable as we think they are. For example, women suffer from depression much more than men, and there seems to be a biological substrate to that. Sex is the bodily reality, and when we forget about that bodily reality, we do not make a world that is fit for humans.
Would you say it is not possible to have a sex change as such?
Yes, I would. Sex is in every cell of your body. There are thousands, literally thousands of impacts on every bit of our body from what sex we are. It impacts on our immune system, endocrine system, the shape of our hands, the thickness of our skin.
We live in this world where we think of ourselves as disembodied robots. Because we are in a very technological society, we do not think about our embodied reality very much – but actually, everything from how flexible your joints are, to the proportions of your shoulders and your hips, is sexed.
Talking of technology, do you think that gender identity ideology has taken hold recently in part because scientific developments have made us believe we can change ourselves dramatically – perhaps more than, in reality, we can?
There are a number of reasons for the recent popularity of gender identity ideology. One is that we have got used to this progress narrative – that we are conquering more and more things, and also that we are being better and better to more people. You bring more and more people inside the tent. Women can vote now, too; slavery is a thing of the past; gay people can marry. If you are looking for the next bit of progress, and if you do not examine it very closely, the idea that men can count as women and women can count as men might sound like it.
A lot of being a woman is irreducible. It is not like being black, which really does not matter. It is not like being gay. Why would that matter, except when you are looking for someone to sleep with? In the case of women, it is that, actually, we are different.
And here we are in a world with this progress narrative – in medicine too. You can believe, if you are not a specialist, that we can make anything happen.
And science has made such incredible progress in so many respects.
Yes. People who think that someone can change sex have often not given the matter any thought – or asked how you could build the reproductive anatomy of one sex inside a person of the opposite sex. They think doctors can work miracles. At the same time, we are very dissociated from our bodies, because we are staring at screens all the time.
What is the best way to help people who have gender dysphoria?
The first thing to recognise is that we are creating gender dysphoria in our society. This is not a disease like cystic fibrosis, with a clearly biological cause. It is culturally created, socially constructed and a social contagion. I am not belittling it. It is like anorexia, which kills people. But there are societies that do not have anorexia – which is created by ideas about what it is to be a man or a woman, what the meaning of self-starvation is. Anorexia is very real, but the amount of it there is in a society is not a given.
The most important thing we can do is to stop creating gender dysphoria. There is far too much of it. Most people feel ill at ease in their bodies during puberty. It is a very hard time. All teenagers probably have a fair amount of body dysmorphia. It is a question of how this is interpreted in a particular society. In our society at the moment, we are telling them that they have probably got gender dysphoria. Rather than treating it, it would be better not to create it. You would still occasionally get people who were gender dysphoric, but, as with self-starvation, it would be far fewer.
Some commentators have argued that trans ideology is similar to a religion or a cult, with its arcane technical terms and rules for pronouns. What are your views on this?
I do think it is a neo-religion – a godless neo-religion. It is an incredibly dualistic belief system, which sees us not just as our bodies. I am the sort of atheist who sees us very profoundly as only our bodies. Our bodies are amazing – we think with them. Our whole body is us. We are not just a vessel carrying around a little homunculus behind the eyes. I do not think there is a separate thing inside our body, but they [proponents of trans ideology] talk about it as though there is. They would say to you, that is just a way of speaking – that they cannot express what they are trying to feel.
Something like the ineffability of God?
Exactly. I was brought up Catholic, although I do not believe any more. If you talk to somebody who is a profound and interesting religious thinker as an adult, you struggle to talk to each other, because they say that they are trying to express something ineffable. But what can you go on, except for what they say? I do not think anything useful is explained by this concept of gender identity, any more than anything useful is explained by the soul. They are concepts we do not need.
Would you be happy to call people by their preferred pronouns?
It would depend what they were doing. If we were sitting here and you told me that you went by 'they', I would do my best to remember, because I am not an arsehole. If you were saying that you did not even agree that there was a gender binary and you wished to make the world gender neutral, I would not accept that. If a man said, I identify as a woman, I would think he was sexist, because all he could possibly mean would be 'I perform femininity.'
What do you mean by 'performing femininity'?
By definition, no man can feel like a woman. Whatever he feels like is just what a man feels like. A man who says he feels like a woman must be looking at women in a surface way and thinking, that suits me better. But he is not talking about menstrual pain, giving birth, or being physically weaker. He must mean that he feels more at home doing the things that women are supposed to do or wearing the things that women are supposed to wear. That is just not what makes me a woman. I would be a woman on a desert island with no clothes and never seeing another human being.
So I can find a man's claim to be a woman sexist, but I can go along with it. Many things are sexist. I can have conversations with people who have religious beliefs that I find repulsive – a lot of which are sexist, too. So I can say to a man, 'I am happy to call you "she", I do not mind what you wear – I do not mind what people wear anyway. But you cannot come into the women's changing rooms and you cannot compete in women's sports.' It is a question of the policies – those are what I care about.
What do you think are the main harms that have been caused by gender identity ideology, as you define it, so far?
There are a lot of them, more than I realised when I started writing about it. I would put them into three categories: women, children and gay people. But actually, I think it is harmful for everybody, because it is a very sexist ideology, and that is not good for anyone. If you deny the reality of sex, it is women rather than men who suffer, by and large, because the man is the default human and the world we live in has been organised for men to move around in. Unless you specifically account for women, you are making a world that suits men.
Could you give us the background to the Mermaids case?
Stonewall was set up to campaign for people who were lesbian, gay and bisexual. That means people who are male or female who would consider sleeping or solely sleep with people of their own sex. These people faced gross discrimination. In 2013, gay marriage was legalised. In 2015, Stonewall became an LGBT organisation. At that point, it started to accept the idea that trans people really were the sex they are not, and when you do that, you mess with the definition of not just sex, but sexual orientation too. A heterosexual woman who identifies as a man becomes a gay trans man, a heterosexual man who identifies as a woman becomes a gay trans woman.
What about the people who are just LGB? Are they meant to see this ineffable essence within trans people? According to Stonewall, they are. Stonewall says it is 'transphobic' for a woman to say she would only consider female partners – because that excludes trans women.
A few years ago, the LGB Alliance was founded to represent LGB people who wanted to be able to say, without any equivocation, that their sexuality is based on sex, not gender identity. They were registered as a charity. In the Mermaids case, Mermaids and other LGBT charities are taking the Charity Commission to court to say that LGB Alliance [which joined the proceedings as the second respondent] is a hate group and should never have been allowed to register.
Mermaids claims that saying your orientation is based entirely on sex is a transphobic dog-whistle. They do not see that there are people – most people, actually – who see their sexuality that way.
What issues arise from the application of trans ideology at hospitals?
Sex used to matter in lots of places it should not – pension ages, who can vote, who can go into what profession, who can go to university – but it does not matter there anymore. Now we are left with the irreducible fact of sexed bodies. So where sex is taken into consideration into public policy now, there is a reason – as in hospitals.
It used to be a popular policy to have single sex wards for women, because female patients do get attacked. But now Annex B to the government's policy [added September 2019] makes sex a matter of self-identification. Hospital admissions now are done on the basis of gender identity, even though they say they are done on the basis of sex.
Has this caused harm so far?
Yes. It is very hard to get numbers as to how many women have been raped by admitting men to women's jails or allowing men onto women's hospital wards. A lot of the time, harm is recorded as having been done by a woman, so you cannot unpick it. But rape is not the only harm. It is about dignity. People were embarrassed – you are very vulnerable in hospital.
When it comes to other spaces, like swimming pools and gyms, women will self-exclude. At Sex Matters, we did a call for evidence. We asked, 'If single sex spaces matter to you, why do they matter?' A lot of people wrote pages and pages explaining how they were raped as a child, or they had this hideous experience in a pub when they were sixteen, when some bloke masturbated in the women's toilets as soon as they came in. Women have awful stories. Many, many women feel very strongly about single sex spaces.
But the sentence that jumped out over and over again was, 'I never went back.' Women would say, 'I used to use this leisure centre. Then they started allowing people to go into whichever changing rooms they felt like to match their gender identity. I went in one day and there was this bloke and he was naked and I didn't know what to do. I never went back.' It is never recorded anywhere. All around the country, women are excluding themselves from public life because of this, but nobody is counting it.
Could you say a bit more about Sex Matters?
Sex Matters is a human rights organisation that campaigns specifically on the question of sex, which is a protected characteristic under the Equality Act 2010, in law and policy. It is for men and women, every religion, race, sexual orientation. Both men and women need sex-based rights, and the law needs to be clear about places where sex matters.
One example is the human right to have your birth registered with your mother's name on the birth certificate. The reason for that right is that there is only one moment when a child is irreducibly somebody's responsibility, and that is the moment of birth. That must be written down. Kids who do not have birth certificates are more at risk of becoming child soldiers, being stateless – they go on to be poorer, and so on.
The journalist Freddy McConnell is a trans man who has a gender recognition certificate and is recognised legally as a man. Freddy gave birth to a child and went to court to be registered as the father on the birth certificate. Rightly, in my opinion, that request was turned down on the basis that it is not Freddy's birth certificate, it is the child's.
Sex Matters is there to campaign about these issues and to get people to talk about them. Because you are not meant to say, 'Freddy McConnell is actually female,' but we have to.
So would you argue that someone like Freddy McConnell – a trans man who gave birth – is actually female?
Yes. Freddy has given birth. It is definitional, the fact that you have got a female reproductive system. Freddy is a mother in material reality. Freddy is a mother in law as well – the word 'mother' refers to women who give birth.
Do you think people should have their biological sex recorded on their passport?
I am not trying to make everybody go on and on about their sex all the time. In lots of places, sex does not matter. If you want to have a passport that has no sex on it, fine by me.
The question is, who are you going to be searched by when you go through airport security? Remember that the person who is searching you has rights too. I understand that a trans woman going through security may feel humiliated when there is an 'unexpected object in the groinal area' – this is what they say. I think you should train staff to deal with it sensitively. But the bottom line is that a woman cannot be forced to search men. She has rights too.
A trans woman is a male. That is meaningful for other people in some situations, not at all meaningful in others. Where it is meaningful, it is their sex that is meaningful.
Looking at the main political parties, what are their positions on trans ideology and the policy issues arising from it?
There is growing understanding within the Conservative Party that there are problems here – because they are less in hock to young graduates, who have really picked up on this ideology, and of course they [the Conservatives] are more religious. I do not think it is a conservative issue as such. I am not a conservative person – I am a feminist, an atheist. I have always thought of myself as liberal. My activism comes out of that position.
The Conservatives do have a significant number of people who are terrible [on trans issues]. There are internal battles. The Conservatives are the people who have been in power since 2010, when all the worst stuff has happened.
What in particular?
They introduced Annex B. They nearly brought in gender self-ID. All the stuff about teaching children nonsense in schools about sex and gender and how sex is not binary and sex is a spectrum and whatever you say you are – that has all been under the Conservatives.
What about Labour and the Liberal Democrats?
The Lib Dems are absolutely lost. They are the party of the young, liberal…
Idealistic?
Yes, idealistic, but, as it were, so open-minded the brain has fallen out. I have voted Lib Dem in the past. There is the Liberal Voice for Women [which supports 'basing policy in…biological reality'], but they are a very beleaguered bunch, bless them.
Within Labour, working class people are not into this bullshit. So to the extent that you are a Labour person who speaks to working class constituencies, you are not either. Unfortunately, parties are always difficult coalitions. Labour has working class, 'red wall' voters, but also young urban graduates, who do not want the party saying that sex is real. So what Labour is trying to do is not talk about it. But it comes to the point where you make a total fool of yourself, as nearly everybody in the Labour Party has, including Keir Starmer.
Do you think that Keir Starmer's equivocation on trans ideology has had a bad effect on his own voters?
I do not think it does him any good. It is an issue that people care about enormously once they realise it is happening – but most people do not know it is happening. It does not tend to come up massively on the doorsteps. There is war in Ukraine, ten per cent inflation, the energy price crisis, rising crime: other things come first to people's minds. People are not talking about this idiocy of allowing men into women's jails – but when it happens to them, they get very angry.
And it is happening. People are seeing it most in schools. Sex Matters is thinking hard about what to do about schools. There needs to be clarity about sex in schools for the extra reason that schools are meant to be an environment where safeguarding comes first. Safeguarding requires you to speak honestly about sex: it is part of any risk assessment. Anyone whose sex you cannot talk about honestly is a problem in a school. That does not mean you cannot have trans teachers – of course you can. But you have to be honest with children. You have to find an age-appropriate way to explain why a trans woman teacher dresses like a woman, but looks like a man, and then you risk-assess them as male, not female – because they are male.
How do you think the approach to trans ideology compares in Britain with the other side of the Atlantic?
It all originated in America, so it has gone much further there. We imported it, so did Australia and Canada. It plays out differently in each country; it is an Anglosphere thing, largely. In America, there are two totemic issues for the Democrats: one is how you think about race, and the other is gender identity. Because the country is so polarised – most Democrats by now loathe Republicans and vice versa – this issue is incredibly polarising.
We [the UK] imported it via universities, social media, big tech, the EDI industry within multinationals. That is a large part of our economy. It has not touched the self-employed plumber, but it is big in Google.
When you write about trans issues, it takes a while to realise that quite a lot of people in elite circles, the opinion formers – people who work in newspapers or government departments – have a trans child. That is the most paralysing thing that can happen to an organisation. It makes it impossible for anybody to talk about the issue honestly, because people are so sensitive about their children.
I have an awful lot of sympathy for these parents, because they were faced with a dilemma where there was a forced choice. A child comes to you and they have all learned these scripts online – that you say that you will kill yourself if you are not transitioned. It is incredibly manipulative.
And the scripts change. Now it is to bake a 'gender reveal' cake that is pink on the outside and blue on the inside, or vice versa, and you leave it in the kitchen with a note saying, 'I have always been a boy,' or 'I have always been a girl.' You are coached online to believe that your parents are massive bigots if they do not instantly say, 'Wonderful, darling' – that they hate you, that you must report them to social services and refuse to speak to them, that you will kill yourself if they do not go along with it.
A lot is self-coaching from the internet. And there are charities, like Mermaids, which are promoting it. Mermaids' CEO, Susie Green, has a trans-identified child.
If you [as a parent] are put in this situation, you look for information and you find two polar opposites: people like me, and people on the other side saying that your child will commit suicide if you do not allow them to transition. As a parent, you have to choose. And whichever one you choose, you have to try to think badly of the other side, because this is a choice for your child.
The people who have transitioned their children must believe that I am the worst person in the world – for their own sanity. There are some parents that I cannot name because they are not out about their child. But I know through the grapevine that some of the people who are strongest in trying to push government and media have undeclared trans children. I feel very sorry for them. They have basically made a promise to their child that the whole world will accommodate them as a member of the opposite sex. It won't. So they have got to try and make us – that is why it gets so vicious.
One of the things that we say [at Sex Matters] is that people should be able to talk about the reality of biological sex using ordinary words. I am not talking about slurs, I am just talking about the fact that we come in two sexes. We need to be able to talk about it, but they need us not to talk about it. That is where the silencing comes from.
What is the way forward from this situation?
I strongly believe that we are not going to continue thinking like this about gender identity, because it is too divorced from the basic reality of what it is to be human. I also think there is a fashion element to it that will burn out. But it matters how much damage is done along the way to institutions, policies, laws, rights and to individuals. Are we able to keep sex based rights or will we have to rebuild them from the ground up? How many lives will be destroyed? We are already seeing quite large numbers of detransitioners – there are 35,000 people on the Detransition Subreddit [as of 17/11/22, around 41,800], and the stories are heartbreaking.
How many people is it acceptable to have sterilised in their teens? Sterilisation is irrevocable. For comparison, America probably did about 50,000 lobotomies – this is still regarded more than 50 years later as one of the greatest human rights abuses in modern medicine. I think we will sterilise many more children than that in the name of gender identity.
I am not saying trans people are all damaged, but that this process, if it turns out not to have been the right process for you, is a damaging one. It is also going to be hard for institutions, as in America, to go back to sex-based rights when they have destroyed them. We [in the UK] are hanging on by our fingertips to our sex-based rights. Also, if this issue goes completely mad, as in California, the backlash is going to be horrendous, and it is going to hit feminists and gay people, as well as anyone who advocated for it.
I want to limit the harm done to individuals and institutions before the pendulum swings back. And then, hopefully, we can come back to a proper equilibrium and to proper accommodations of people who think about themselves differently – as we do with Orthodox Jews or vegans. We are in a pluralistic society; people can have many different ideas about themselves.
See also:
'When the chips are down, the philosophers turn out to have been bluffing': interview with Alex Byrne
'The falsehood at the heart of the trans movement', by Eliza Mondegreen
Enjoy this article? Subscribe to our free fortnightly newsletter for the latest updates on freethought. Or make a donation to support our work into the future.