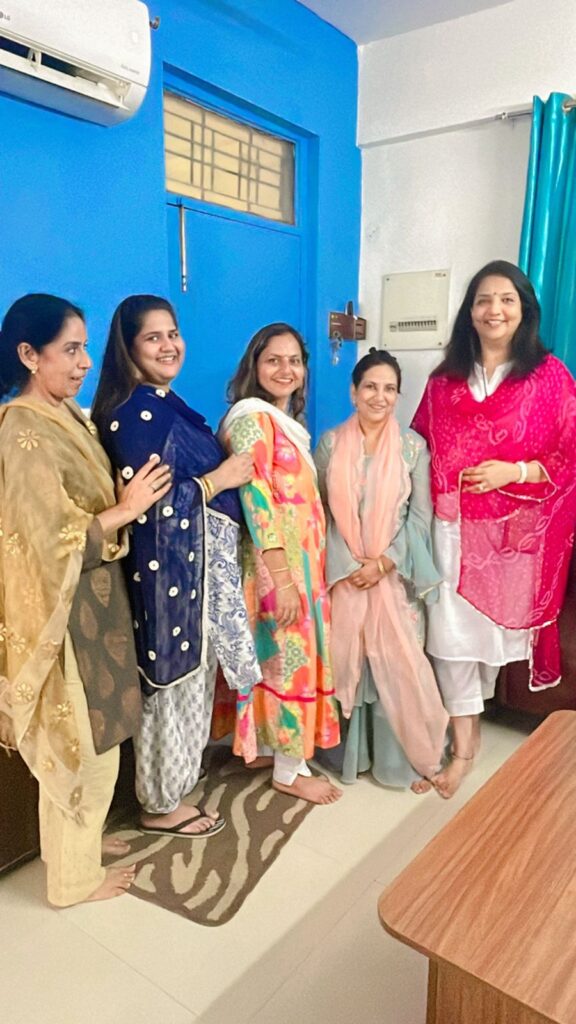 On August 15, India's 76th Independence Day, Aditi* and Shrey*, a married Hindu couple, visited Ishrat Kazmi, a retired school principal, at her home in New Delhi.
It was not an ordinary visit. They were among the 50,000 people who participated in a campaign to unite people of different religions, castes and ethnicities across the country that day.
Religious minority communities, especially the Muslim community, currently find themselves in a dire situation.
According to the Indian government, the Muslim population in India for 2023 is estimated to be 197.5 million, around 14.2 per cent of the total population.
In the last census in 2011, Hindus constituted the majority in 28 of India's 35 states and union territories, including populous states such as Uttar Pradesh, Maharashtra, Bihar and West Bengal. However, Muslims dominated the tropical archipelago of Lakshadweep, off the southwest coast, as well as Jammu and Kashmir in northern India, on the border with Pakistan.
Since Narendra Modi's Bharatiya Janata Party (BJP) gained power in 2014, hate crimes and discrimination against marginalised groups have surged. Rabid mobs have lynched Muslim men based on mere suspicions of consuming or transporting beef (the cow is considered sacred in Hinduism). The nation's history is being rewritten to align with hardliner and radical Hindutva agendas. Members of minority communities have been forced to chant slogans aligned with the Hindutva ideology, and riots have been incited by BJP politicians.
The list of hate crimes is extensive and ongoing. Recently, during a discussion in the Indian parliament, a BJP lawmaker directed Islamophobic abuse at his Muslim colleague with impunity. According to Hindutva Watch, a US-based research group that monitors hate speech directed at Muslims and other minority groups in India, there were 255 documented instances of gatherings promoting hate speech against Muslims during the first half of 2023. A significant majority, 80 percent, of the 'hate speech gatherings targeting Muslims' occurred in BJP-ruled states (which have their own governments) and union territories (areas directly under the control of the central Indian government).
With the rise of Islamophobia in India, Muslims have been targeted repeatedly and are the marginalised population. The persecution the Muslim community faces outweighs any instances of Muslims inciting violence.
In response to this assault on India's secular social fabric, civil society organisations led by Anhad, an NGO that operates in the sphere of social justice and human rights, have initiated a nationwide campaign called #MereGharAakeToDekho ('Visit My Home, Be My Guest') to counter the escalating anti-Muslim sentiments.
This campaign encourages people to visit homes and spend time with individuals from marginalised and minority communities.
From her experience working with minority communities in riot-hit areas, social activist and Anhad founder Shabnam Hashmi has learned that countering hatred and dispelling preconceived notions can most effectively be achieved when people build close personal connections and come together in public spaces.
'If the same lies are repeated again and again, people start believing them. To counter this, we believed that the best approach was physically entering each other's spaces,' she adds. 'When communities don't interact, it becomes easier for hatred to spread.'
And she is right.
Initially, Aditi was not comfortable with the idea of the visit and discussed it with her husband. Her apprehension was not about meeting that particular family but visiting a Muslim-majority neighbourhood in Delhi.
'At first, I asked my husband, "Why should we go? I don't spread hate, and I support harmony between communities. So, what's the purpose of our visit?' says Aditi.
She soon found the answer. During the visit, 'I realised that "they are just like us." Conversations with them felt as easy as talking to friends, and it opened our hearts. The more we segregate ourselves, the more power we give to the fear created in society.'
For Kazmi, it was a simple matter. She immediately agreed when an NGO approached her to host a couple from the majority Hindu community. 'I grew up in a secular environment and never faced any discrimination because of my religion [Islam],' she says.
Aditi reluctantly participated in the campaign without informing any family members. Now, though, she desires to share her experience with everyone.
Given the religious tensions currently brewing in the country, Kazmi feels that communities must interact more with each other to get to know each other better.
Similarly, in Shaheen Bagh, another Muslim-majority neighborhood in Delhi, another Muslim family hosted Shalu Raizada on August 15.
Starting in December 2019, Shaheen Bagh was the centre of a four-month non-violent sit-in protest led primarily by Muslim women. This protest was a response to the Indian government's implementation of the Citizenship (Amendment) Act (CAA), National Register of Citizens (NRC), and National Population Register (NPR).
Detractors of these laws claim that they violate the rights to equality, life, and personal liberty, all safeguarded under the Indian Constitution. Furthermore, these laws are perceived as being specifically designed to exclude Muslims. 
The Citizenship (Amendment) Act grants citizenship based on religion to six non-Muslim groups (Hindus, Sikhs, Buddhists, Jains, Parsis and Christians) from Pakistan, Afghanistan, and Bangladesh who arrived in India before 31 December 2014. It does not mention Muslims.
The CAA is unconstitutional as it violates India's secular values and may disenfranchise its Muslim population. The government's planned National Register of Citizens process poses even more significant risks in conjunction with the CAA. No clear guidelines and arbitrary implementation threaten to divide India's diverse society, robbing people of citizenship and rights.
Right-wing and hardliner Hindutva politicians used this opportunity to portray Indian Muslims as traitors. Shaheen Bagh, despite being in Delhi, has started to be called "mini-Pakistan" – a term used by right-wing Hindus of any Muslim-majority areas in India.
Raizada was not sure how the home visit would play out following these events, so she asked two friends to accompany her.
When she arrived at the home of the Muslim family she was visiting, Raizada and her friends found that Shaheen Bagh celebrated India's Independence Day with as much enthusiasm as any other community. 'I found no semblance of the stereotypes ingrained in our minds about certain groups. I realised how trivial our thoughts are,' she says.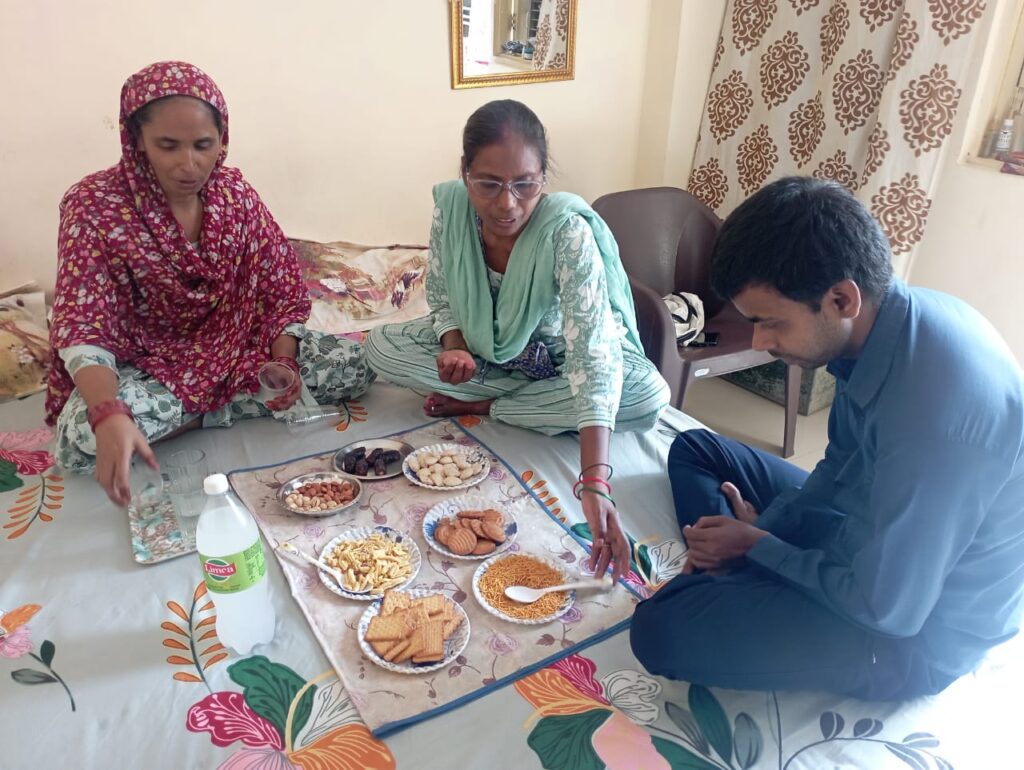 Raizada noticed that the hosts had their share of insecurities as well.
From their host, Daaniya Afreen, they learned that Afreen's children, who study in a posh English-medium school, have faced discrimination from other students because of their Muslim identity.
'They have been compelled to chant "Jai Shree Ram" ['Hail, Lord Ram', a Hindu chant] on several occasions,' says Afreen. However, she adds that the school administration was very cooperative and immediately addressed the issue.
Both parties agree that there is an acute lack of interaction between their communities in this volatile atmosphere in the country.
'The situation is further exacerbated by unverified WhatsApp messages demonising the Muslim community and spreading religious hatred,' says Raizada.
'Yet as we sat down and conversed, it became evident that reality diverges significantly from societal portrayals today. We can understand each other better through interactions in each other's spaces—neighbourhoods and homes. Our viewpoints may differ, but fundamentally, we are all human,' she adds.
Raizada says that although various communities have coexisted in India for centuries, the current climate makes it imperative that people actively strive to deepen their understanding of one another.
To get this campaign started, NGOs and civil society organisations across 28 states leveraged their resources to form state-level working and community coordinating committees. These organisations held meetings in the areas and communities where they worked to initiate the campaign. Moreover, the organisers reached out to people from every stratum of society and region.
Farida Khan, who attended the meetings, recalls that some community-based organisations had backed out, stating that this campaign might affect their relationship with the community they were working with.
Khan, who lives on the outskirts of Delhi, is an activist and teacher. She teaches girls who have dropped out of school for various reasons from Hindu and Muslim communities in local working-class neighbourhoods. She first approached her students' families, presented them with the idea of opening their homes to people from different communities, and gauged their interest in participating in the campaign.
It was not easy to cut through the hostile and, particularly at present, anti-Muslim sentiments that have been rising in the country. 'They asked me why they should allow strangers into their home. Some were scared to participate, fearing boycott from their relatives,' she says.
To navigate these difficulties, Khan mobilised community volunteers to go from home to home and talk to families from different religious communities. They kept up this exercise for more than 20 days. The communities, she says, were greatly influenced by the harmful content shared over social media. 'It took us some time to convince the families. Sometimes, the women wouldn't entertain us without their husbands. Moreover, the communities were greatly influenced by viral content received over social media.'
Finally, she was able to convince 40 Muslim families and 25 Hindu families to open up their homes to people from other religious communities.
The campaign is very clear about who they want to reach out to. It does not want to engage with individuals from any religious community who actively promote hatred. The focus is on reaching out to the fence-sitters. If this outreach continues, Hashmi says, it will naturally have a ripple effect. 
'It is about creating spaces where we encourage people who don't usually socialise to come and visit each other,' says Anita Cheria, who took an active lead in spreading the campaign in the southern state of Karnataka.
According to Cheria, the campaign's strength is in the simplicity with which it counters this toxicity, placing faith in the human spirit and humanity.
'While it may not appear to be a ground-breaking initiative, this straightforward action can instil fundamental values such as friendship and relationship-building through gradual and incremental steps. It may seem small, but it can lead to meaningful and significant engagement,' she says.
'For some reason or another, we visit certain types of people but not others. This "othering" is intrinsic to each person and, to a large extent, has initiated this campaign.'
Cheria also emphasises that vulnerable individuals should not be singled out to showcase their credibility or open their homes: 'It should be a mutual exchange, with visits occurring reciprocally, and not turning into an activity that, directly or indirectly, compels people to prove their goodness or credibility in any way.'
The visits are ongoing. The organisers boosted the campaign in time for 2 October, a national holiday celebrated as the anniversary of the birth of Mahatma Gandhi, the 'Father of the Nation'. 
According to Hashmi, on 2 October, thousands of people participated across various states, making the campaign a huge success.
From 11-17 October, the campaign was conducted in remote villages near Kupwara district in Kashmir's Lolab Valley. Twenty-five people from different Indian states stayed with local families, making it the first of its kind event in Kashmir.
All guests and hosts gathered for a picnic in Chandigam village and dinner in Chogal village. Singing and dancing continued late into the night, breaking many taboos imposed by conservative society in these parts.
'The common narrative about Kashmir focuses only on terror and unsafe areas. By placing people in villages within a border district considered among the most dangerous, we aimed to challenge this belief,' says Hashmi. She adds that people from different religions stayed with local families, visiting about ten other families and local schools, in order to learn that the real situation differs significantly from the way it is portrayed in the media.
'Girls from various villages gathered at the host's house. The singing and dancing continued well past midnight,' says Hashmi.
Additionally, 20 participants will travel to Kupwara, a restive region in the Indian state of Jammu and Kashmir. During their stay, spanning four nights, they will reside in local village homes and have the chance to build connections with their hosts.
Kashmir is the only (mainland) Indian state with a Muslim-majority population and is a disputed territory between India and Pakistan. The region has grappled with cross-border militancy for decades, and people from Kashmir are often met with suspicion from the rest of India.
The campaign is set to run until January 2024, in the hope that open dialogue can forge enduring friendships, serving as a strong defence against ongoing political efforts to divide people.
* Some names in this article have been changed to protect those mentioned.
Enjoy this article? Subscribe to our free fortnightly newsletter for the latest updates on freethought. Or make a donation to support our work into the future.