This is a translation of the French original, which follows below.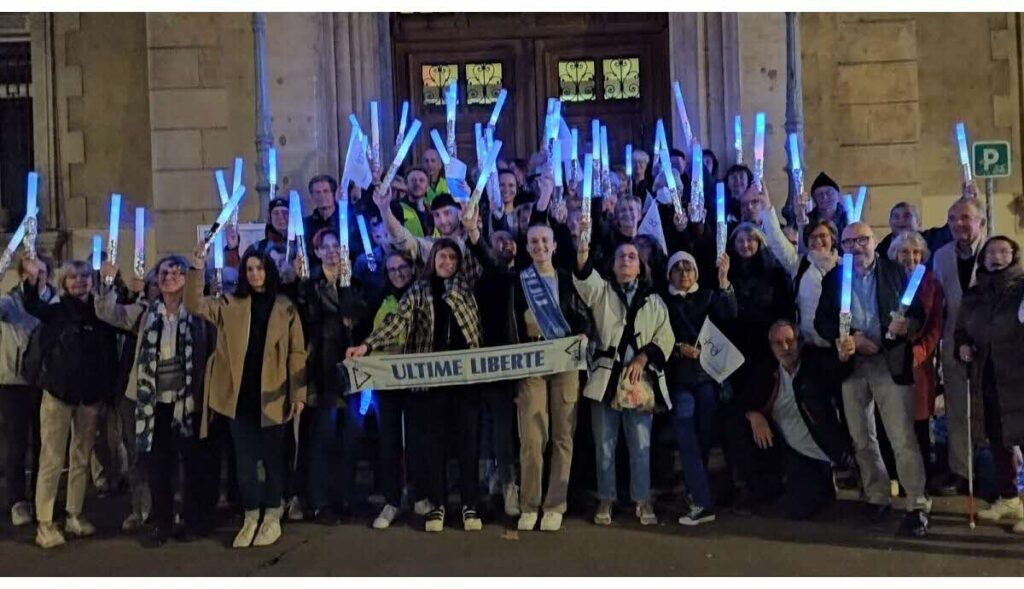 Since the beginning of the 2000s, while the Netherlands and Belgium had already made legislative provisions about assisted dying, in France, the debate has continued endlessly.
Three laws were made on this subject from 2005 to 2016, primarily by the same deputy [in the National Assembly], a cardiologist opposed to euthanasia, who once even claimed that his law was a model for other countries to follow. With self-serving complacency, this same doctor, although opposed to euthanasia, admitted to Le Point in 2008 that he had 'switched off respirators in order to free [hospital] beds'.
The debate in the French media about the end of life was launched in 2003 by the case of Vincent Humbert, a young firefighter who, following a car accident, found himself locked in his body and only able to communicate with one finger. Through the mediation of his mother, he asked the president of the Republic, Jacques Chirac, for the right to die with dignity. But this was denied him.
Humbert was finally freed from his body, which had become a prison, by his mother and his doctor. His case provoked an immense emotional response in the French population. It was the first of many such cases. From then up to the present, the debate on assisted dying has continued.
France adopted three laws about the end of life in 2005, 2010 and 2016. These pieces of legislation firstly gave guarantees to doctors and allowed them to acknowledge advance healthcare directives (or 'living wills'), even if, while being restrictive, these could not always be contested. The doctor could always decide not to honour them in a situation of vital urgency or if they were 'manifestly inappropriate' – something which, in French law, does not mean anything.
From 2005, although euthanasia and assisted suicide were completely ruled out by the legislature and successive right and left-wing governments, palliative sedation became a possibility. Finally, the latter was redefined and limited to the patient's dying moments. Since 2016, 'profound and continuous sedation' up to death has been the only legal way of stopping mental suffering or futile, unbearable and unassuageable pain.
If sedation of this kind can be a genuine solution for people who are very old or completely debilitated, it becomes an act of medical cruelty when it lasts two or three weeks – as is unfortunately too often the case in France.
In fact, as it was put rather naïvely by Jean Leonetti, the architect of the laws of 2005, 2010 and 2016 (and also, extraordinarily, their evaluator), in order to let someone 'sleep before dying', it is necessary to stop giving them food and water, thereby provoking a sickness so that their kidneys are affected, and death at last follows. Everything, in fact, remains under the control of the doctor, who can choose whether or not to accelerate the sedation. Moreover, under the influence of this type of slow sedation, there is no study that shows that the patient does not suffer. What is certain is that people close to the patient, such as carers (in particular the nurses), do suffer from this slow form of death.
The politicians responsible find it hard to understand that our death can belong to us. They have always followed the lead of doctors who wish to medicalise death and retain sole control over it. But as a result of cases [like Humbert's] and debates in the media, our elected representatives have finally admitted that they ought to have a change of approach and put the dying person at the centre of these decisions – that it ought to be the patient or their healthcare proxy who decides.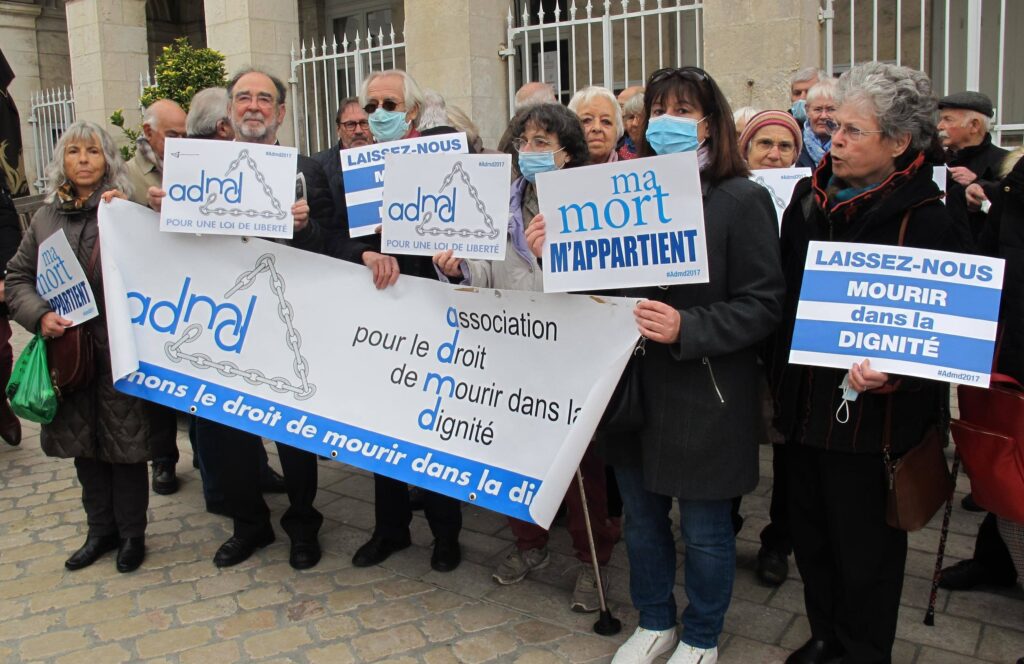 Under the previous government, the National Assembly ought to have adopted the legislative proposal of the deputy Olivier Falorni, which would have legalised active assistance in dying. For the first time, there was a large majority in favour, but the government did not want to allow this law to pass all the way through the legislative process. However, during his presidential campaign, Macron, who would be reelected, committed himself to launching a citizens' debate and even expressed himself in favour of the Belgian model.
This commitment is now on the point of being honoured. In September 2022, the National Consultative Ethics Committee issued Opinion 139, paving the way to a law that could authorise euthanasia. The French President has announced a citizens' convention that will be held from December 2022. This convention will be put under the control of the Economic, Social and Environmental Council. An evaluation of the last 'Leonetti-Claeys' law of 2016 will be made by the National Assembly in the coming months.
At last, a debate will be organised throughout the country. This will be an important occasion for supporters of the ultimate freedom to demonstrate that a law that permits assisted dying is a possibility given to every individual – and not an obligation, as some people would have it considered.
The issue today is about defending a law which strictly respects the wish of the dying individual. This law ought to rest on two limbs: on the one hand, universal access to palliative care, and on the other, the legalisation of euthanasia and assisted suicide.
This law will be faithful to our republican triptych – Liberté, Égalité, Fraternité – which applies to all of our official institutions:
Liberty to live as long as possible for those who wish to. Liberty of conscience for carers who will never be obliged to assist in a case of euthanasia, thanks to a 'conscience clause'. Liberty, finally, for those who cannot endure to live any more, because there is no principle, in a secular democracy, that obliges anyone to die at the last possible moment – and especially to die in pain and suffering.
Equality before death. There is no doubt that all of us are going to die – even if certain politicians seem not to have not realised it – but we are not all going to die in the same conditions. If you have relatives or the means to do so, you will end up dying abroad, in Belgium or Switzerland. But to do so in Switzerland, you need to scrape together more than 10,000 euros (£8,650). The vast majority of French people do not have this sum. It is like when abortion was forbidden in France: up till 1975, women who sought one had to flee abroad. Those who did not have the means to do so submitted to backstreet abortionists (so-called 'angel-makers'), and some of them died. Similarly, in France today, old and very ill people are being driven to violent suicide, because they are not guaranteed a serene and dignified end to their lives.
Finally, Brotherhood, because not all physical pain and psychological suffering can be assuaged. What can be said to people who have pains that resist treatment? 'Die in agony!'
To conclude, the law that we want for France will at last allow each person to control the end of his or her life. A society which gives individuals this final right elevates itself. France will thus be able to reassume its vocation as a leading country for the respect of fundamental human rights. Roll on 2023!
Enjoy this article? Subscribe to our free fortnightly newsletter for the latest updates on freethought.
––––––––––––––––––––––––––––––––––––––––––––––––––––––––––––––––––––––––––
La fin de vie : enfin une loi d'Ultime liberté en France ?
Depuis le début des années 2000, alors que les Pays-Bas et la Belgique avaient déjà légiféré, la France n'a cessé de relancer d'ininterrompus débats sur la fin de vie.
Trois lois de 2005 à 2016, trois lois faites principalement par le même député, un cardiologue opposé à l'euthanasie, et qui un jour prétendit même que sa loi était un modèle dans le monde. En terme, d'autosatisfaction, on n'est jamais aussi bien servi que par soi-même. Lequel médecin, opposé à l'euthanasie, avouait dans un grand magazine, en 2008, avoir « arrêté des respirateurs pour libérer des lits. »
C'est l'affaire Vincent Humbert, du nom d'un jeune pompier qui, à la suite d'un accident de voiture, se retrouve enfermé dans son corps n'ayant plus qu'un doigt pour communiquer, qui va lancer médiatiquement le débat sur la fin de vie en France. Par l'intermédiaire de sa maman, il va demander au président de la République, Jacques Chirac, le droit de mourir dans la dignité. Ce qui lui sera refusé.
Il sera finalement libéré de son corps devenu une prison par sa mère puis par son médecin.
Cette affaire va provoquer une immense émotion dans la population française. Elle est la première de nombreuses autres. Et le débat sur la fin de vie sera ininterrompu jusqu'à ce jour.
La France a donc adopté ses trois lois sur la fin de vie en 2005, 2010 et 2016. Ces législations ont d'abord donné des garanties aux médecins et ont permis de reconnaître les directives anticipées même, si tout en étant contraignantes, elles ne sont toujours pas opposables. Le médecin peut toujours décider de ne pas les respecter en cas d'urgence vitale ou si elles sont manifestement inappropriées, ce qui, en droit français, ne veut rien dire…
Dés 2005, si l'euthanasie et le suicide assisté ont été totalement écartés de la loi par le législateur et les gouvernements de droite et de gauche successifs, la sédation terminale est devenue une possibilité. Finalement, elle a été redéfinie et limitée à l'agonie. Depuis 2016, la sédation profonde et continue jusqu'à la mort est devenue la seule possibilité d'arrêter des souffrances ou des douleurs inutiles, insupportables et inapaisables.
Si cette sédation peut être réellement une solution pour des personnes très âgées ou totalement affaiblies, elle devient un acte médical cruel quand elle dure deux ou trois semaines, ce qui est malheureusement encore trop souvent le cas en France.
Car, en effet, pour laisser dormir avant de mourir, comme l'énonce avec un peu de naïveté Jean Leonetti, l'artisan des lois de 2005, 2010 et 2016 – mais aussi, extraordinaire, l'évaluateur de ses propres lois ! – il faut arrêter d'alimenter et d'hydrater la personne et donc provoquer une maladie pour que les reins soient atteints et que la mort s'en suive enfin ! Et, tout reste en fait sous le contrôle du médecin qui peut accélérer ou non la sédation… D'autant que sous le coup de cette forme de sédation, lente, aucune étude ne prouve que le patient ne souffre pas ; ce qui est certain, c'est que l'entourage, dont les soignants, au premier rang desquels les infirmiers, souffrent de cette lente agonie.
Les responsables politiques ont du mal à comprendre que notre mort puisse nous appartenir et ont toujours suivi ces médecins qui souhaitent médicaliser la mort et en garder, seuls, le contrôle.
Mais, à force d'affaires et de débats médiatiques, les élus ont enfin admis qu'il fallait changer de logique et mettre la personne mourante au centre des décisions. Que ce soit elle qui décide ou sa personne de confiance.
Sous la précédente mandature, l'Assemblée nationale a failli adopter une proposition de loi du député Olivier Falorni légalisant l'aide active à mourir. Pour la première fois, il y avait une large majorité pour le faire mais le gouvernement n'a pas souhaité permettre à ce texte d'aller au bout du chemin législatif. Cependant, pendant la campagne présidentielle, le candidat Macron, réélu président, s'est engagé à lancer un débat citoyen et s'est même prononcé en faveur du modèle belge.
Cet engagement est en passe d'être tenu.
Le conseil consultatif national d'éthique a rendu un avis à l'automne 2022 permettant d'avancer vers une loi qui autoriserait l'euthanasie et le président de la République a annoncé la tenue d'une convention citoyenne à partir du mois de décembre 2022. Elle sera placée sous le contrôle du Conseil économique, social et environnemental.
Une évaluation de la dernière loi de 2016 dite Leonetti-Claeys sera faite par l'Assemblée nationale pour janvier 2023.
Enfin, un débat sera organisé partout dans le pays. Ce sera notamment l'occasion pour les militantes et les militants de l'ultime liberté de démontrer qu'une loi sur l'aide active à mourir est une possibilité donnée à chacune et chacun. Et non une obligation comme certains voudraient le faire croire.
Il s'agit de défendre aujourd'hui une loi qui respecte strictement la volonté du mourant. Cette loi doit reposer sur ses deux jambes : d'une part, l'accès universel aux soins palliatifs et d'autre part, la légalisation de l'euthanasie et du suicide assisté.
Cette loi sera fidèle à notre triptyque républicain, Liberté, Égalité, Fraternité qui s'étend sur toutes nos édifices officiels !
Liberté de vivre le plus longtemps possible pour celles et ceux dont c'est le vœu. Liberté de conscience des soignants qui ne seront, jamais obligés d'accompagner une euthanasie grâce à une clause de conscience. Liberté enfin de celles et de ceux qui n'en peuvent plus car il n'existe aucun principe, dans une démocratie laïque, qui vous oblige à mourir le plus tard possible, notamment dans la douleur et la souffrance.
Égalité devant la mort. Certes 100% d'entre nous allons mourir même s'il semble que certains politiques ne s'en rendent pas compte, mais nous ne mourons pas dans les mêmes conditions. Si vous avez des relations ou des moyens, vous arriverez à mourir à l'étranger, en Belgique ou en Suisse. Mais aller en Suisse, ce sont plus de 10 000 euros qu'il faut réunir. L'immense majorité des Français n'ont pas cette somme. C'est comme quand l'avortement était interdit en France jusque 1975, les femmes devaient fuir à l'étranger. Celles qui n'en avaient pas les moyens se donnaient aux faiseuses d'anges et certaines en mouraient. Comme aujourd'hui, on pousse en France les seniors et les personnes très malades à se suicider violemment faute de leur garantir une fin de vie sereine et digne.
Fraternité enfin, car on ne peut soulager toutes les douleurs physiques et toutes les souffrances psychiques. Que dire à des personnes qui ont des douleurs réfractaires ? Agonisez dans la souffrance !!!
En conclusion, la loi que nous voulons pour la France permettra enfin à chacune et à chacun de maîtriser sa fin de vie.
Une société qui donne ce droit ultime s'élève. La France renouera alors avec sa vocation de pays exemplaire pour le respect des droits humains fondamentaux… Vivement 2023 !